Our endorsement

At Torretas Guadiana we participate in all phases of design, production and installation of our products with our own resources and highly qualified personnel, offering our clients the necessary technical assistance for the preparation of documentation and technical specifications for projects, as well as all kinds of inquiries.
The accumulated experience and permanent contact with our customers, in order to know their needs, has led us to develop a wide range of products in a constant process of renewal and expansion in terms of equipment.
Throughout these years, reality shows us that our commitment to design, technology and quality service, with all manufacturing processes certified with ISO 9001, IP (CEI 60529) and IK (CEI 62262), are a guarantee of success.
National and international presence
More than 20,000 service pedestals for marinas installed since our constitution in 1993, in ports of the Iberian Peninsula, the Balearic Islands, the Canary Islands, the Azores Islands, Mexico and Panama, in addition to the presence in sporting events of special relevance such as the Volvo Ocean RACE or the Audi Challenge, are the endorsement that guarantees our experience and knowledge of the needs of marinas.
Custom manufacturing
We manufacture custom pedestals according to the demands and needs of our customers. We meet any customization requirement by adapting our products to the different current international regulations. We are experts in the custom manufacturing of pedestals and we have certificates of compliance with the highest standards of quality and product safety.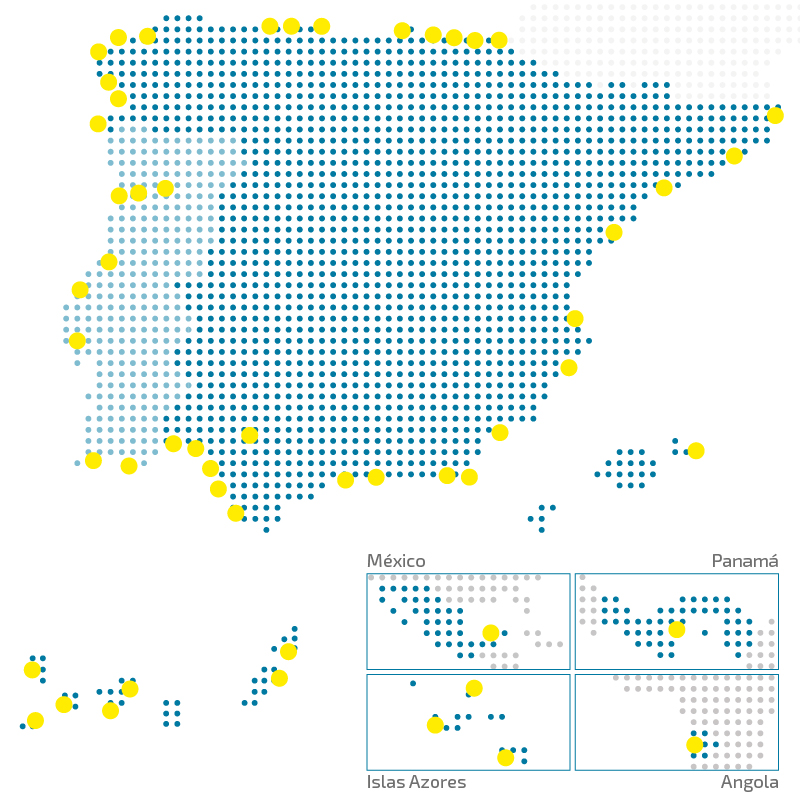 BASIC INFORMATION ON DATA PROTECTION
Responsible: TORRETAS GUADIANA S.L.; Purpose: Respond to your query.; Legitimation: Consent of the interested party. No data will be transferred to third parties, except legal obligation.; Recipients: TORRETAS GUADIANA S.L.; User rights: Access, Rectification, Cancellation, Opposition, Oblivion and Portability of data. Additional Information: You can consult the additional information in our Privacy Policy.